Sugar Cookie Martini

Ingredients:
For the martini:
1/2 c. whole milk
1/4 c. Baileys
2 oz. vanilla vodka
2 oz. amaretto
Ice
For the rim:
1/2 c. vanilla frosting
1/4 c. sprinkles, plus 1 tsp., divided
Pre-made sugar cookie dough
Directions:
Preheat oven to 350° and line a baking sheet with parchment paper. Roll sugar cookie dough out to ¼" thick. Using a cookie cutter, cut out desired shapes then place cookies on prepared baking sheet. Bake until just set and lightly golden around the edges, 12 minutes. Let cool.
Using an offset spatula, spread a thin layer of frosting onto rim of two martini glasses. Pour ¼ cup sprinkles onto a small plate then dip rims in sprinkles to coat. Use an offset to frost cookies with frosting then decorate with remaining 2 tablespoons sprinkles.
In a cocktail shaker, combine milk, Baileys, vodka, and amaretto. Add ice and shake until cold. Pour into glasses and garnish rim with a cookie.
_________________________________________________________
COCKTAILS FOR ONE…OR TWO…
Easy Holiday Cocktail
Ingredients
1 part Sprite
1 part Cranberry Juice
1 part Orange Juice
1 part Vodka
Ice
Sliced orange and/or fresh or sugared cranberries for garnish
Instructions
Add ice to a cocktail glass.
Pour equal parts Sprite, cranberry juice, orange juice, and vodka (optional) over ice.
Add slice of orange for garnish and serve.

___________________________________________________
COCKTAILS FOR A GROUP…
Christmas Punch
Ingredients
1 large bag of ice
5 cups 100% cranberry juice* — 40 ounces, NOT cranberry juice cocktail
2 bottles very dry sparkling wine — (750 ml bottles) , such as champagne, cava, or Prosecco
2 cups apple cider
1 1/2 cups diet ginger ale — (12 ounces) (from 1 can or poured from a liter bottle)
1 1/2 cups dark rum or brandy — (12 ounces)
2 oranges — thinly sliced into rounds
1 cup fresh cranberries
Instructions
Make sure all of the ingredients are well chilled. Fill a large punch bowl with ice. Top with the cranberry juice, sparkling wine, apple cider, ginger ale, and rum. Stir gently to combine. Top with the orange slices and fresh cranberries. Enjoy!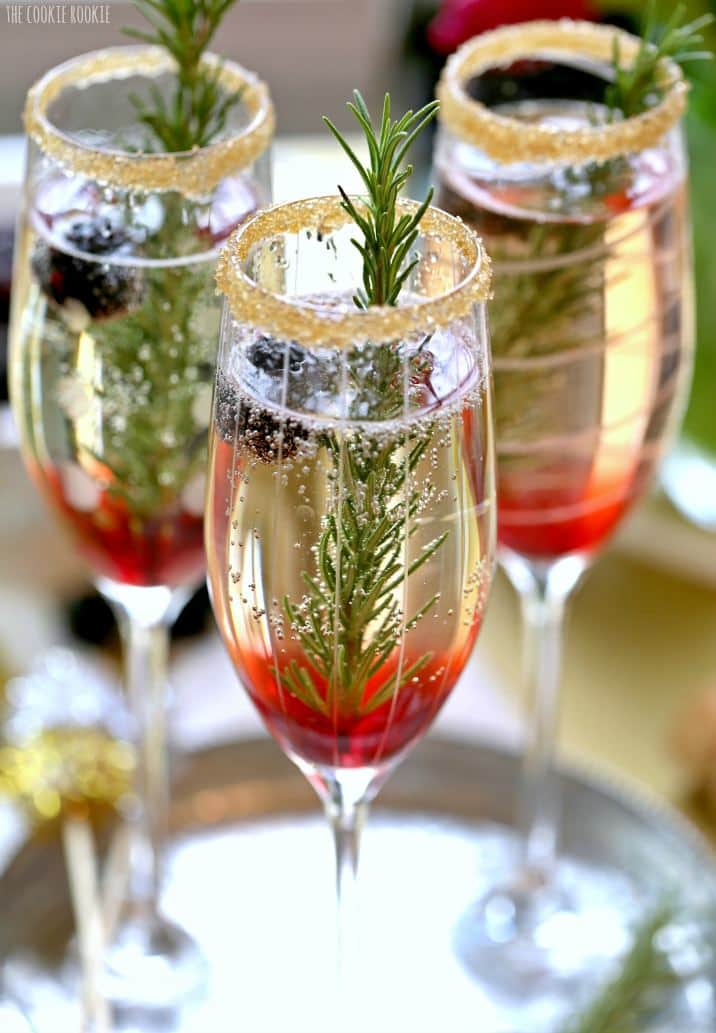 Blackberry Ombre Sparkler
Ingredients
· 1 cup fresh blackberries
· 1 cup sugar
· 1 cup water
· 4 sprigs fresh rosemary
· 1 bottle champagne
Instructions
In a small saucepan, combine blackberries, sugar, and water. Bring to a boil on high heat, and then reduce to a simmer and let cook for approximately 15-17 minutes. The blackberries will become soft and bright in color and a pinkish purple syrup will form. Making sure it cooks down enough is essential to keeping the ombre effect. Take off of the heat and drain the blackberries, keeping the syrup in a separate bowl. Set both aside and allow to cool.
Once blackberries and simple syrup are cooled, spoon about 4 tablespoons of syrup into the bottom of each champagne flute (this recipe makes 4 drinks)
Top with champagne.
Garnish with fresh blackberries or the cooked blackberries, and a sprig of rosemary.
Cheers!